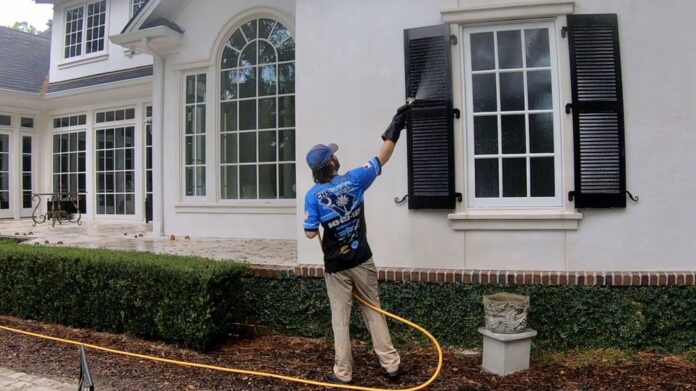 Once you have installed the suitable pressure washer, it is time to hunt for attachments that will help diversify your washing portfolio. And if you own a commercial detailer garage, you stand to benefit more as it allows you to expand into areas with high demand.
The market carries numerous accessories. But you want a unit that fits your machine. Start the search at your supplier's doorstep. There is a good chance they have parts compatible with your equipment. You'll find the best accessories to include nozzles, wands, brackets, hoses, and many more.
Let your decision to install a new attachment revolve around the desire to clean as many items as possible. For instance, your current washing may include driveways and decks only.
Your next purchase should help enrich your arsenal of washing tools. That way, you can wash gutters, roofs, and painted walls as well.
Accessories help deliver a stellar job in the shortest time, boosting efficiency and doubling productivity at no extra cost. It means the world to commercial detailers. It allows them to generate revenue quickly while giving satisfactory services to clients.
Let's take a look at some of the accessories you can rely on to tweak your cleaning experience and make life easier.
Your pressure washer needs a long wand
Cleaning gutters or siding with a short wand requires you to elevate your height. In some instances, you may employ a ladder and fail to reach your target. Worst still, you'll find yourself stretching your back beyond limits. Such scenarios erode washing vibes.
Fortunately, a lightweight wand extension can change the dynamics. You can blast out the ugly molds sitting on the siding and take advantage of the proper nozzle to smoke out grime, hiding in the hard-to-reach areas on the roof. An extended wand benefits you immensely. You won't need to compromise the pressure by adding an extra hose nor risk falling by building a fragile platform to add footing to get closer to your target.
Attach the correct nozzles to your pressure washer to boost cleaning
Nozzles play a crucial role in helping you meet your cleaning needs. Tight curves and heavily soiled concrete requires the correct nozzles to get the job done. But before deciding to install a nozzle, a bit of knowledge of the dangers they bring makes a world of difference on your choice.
Nozzles fall under five categories;
Zero-nozzle gushes extremely concentrated water and can scar a surface quickly. As such, detailers know when to engage it and enjoy elaborate rest most of the time. Use it to remove a tough stain on concrete. And when a surface elicits confidence to tackle high stubbing pressure, you can engage it to lift grime and any other form of had to remove debris.
15°nozzle comes close to the zero nozzles in strength and tearing ability. You can use it to remove stains on heavily stained concrete and any other rigid surface.
25°nozzle is a bit friendlier but has the power to damage when you hold it close to the surface. 40°nozzle works under low pressure and is ideal for cleaning fragile surfaces, including cars and old decks. And when you are cleaning windows, engage the 60°nozzle because it lets out water at a slow pressure meaning it won't hurt the glass.
Install extension hoses to supplement the short cord
A short cord limits the ability to reach some corners forcing you to move the pressure washer. But you want to reduce the difficulty and add fun to your detailing experience. It is when you should incorporate an extension hose and navigate the length of the device with a lot of ease.
You would argue that additional length weighs down on pressure compromising the cleaning needs. Well, a long cord reduces effectiveness only if you exceed 200 feet. But the drop ranges from 20-75 psi and is insignificant to alter a 2200 psi.
Bottom line
Even if your pressure washer is the best seller unit, you can still install vital accessories and boost productivity by a more considerable margin. A long wand helps you expand your washing from cleaning easy to reach areas such as patios and by incorporating elevated areas such as gutters and siding. The correct nozzle could be the last you need to complete the puzzle. Several modes increase your scope to clean even the most delicate items such as windows and cars.